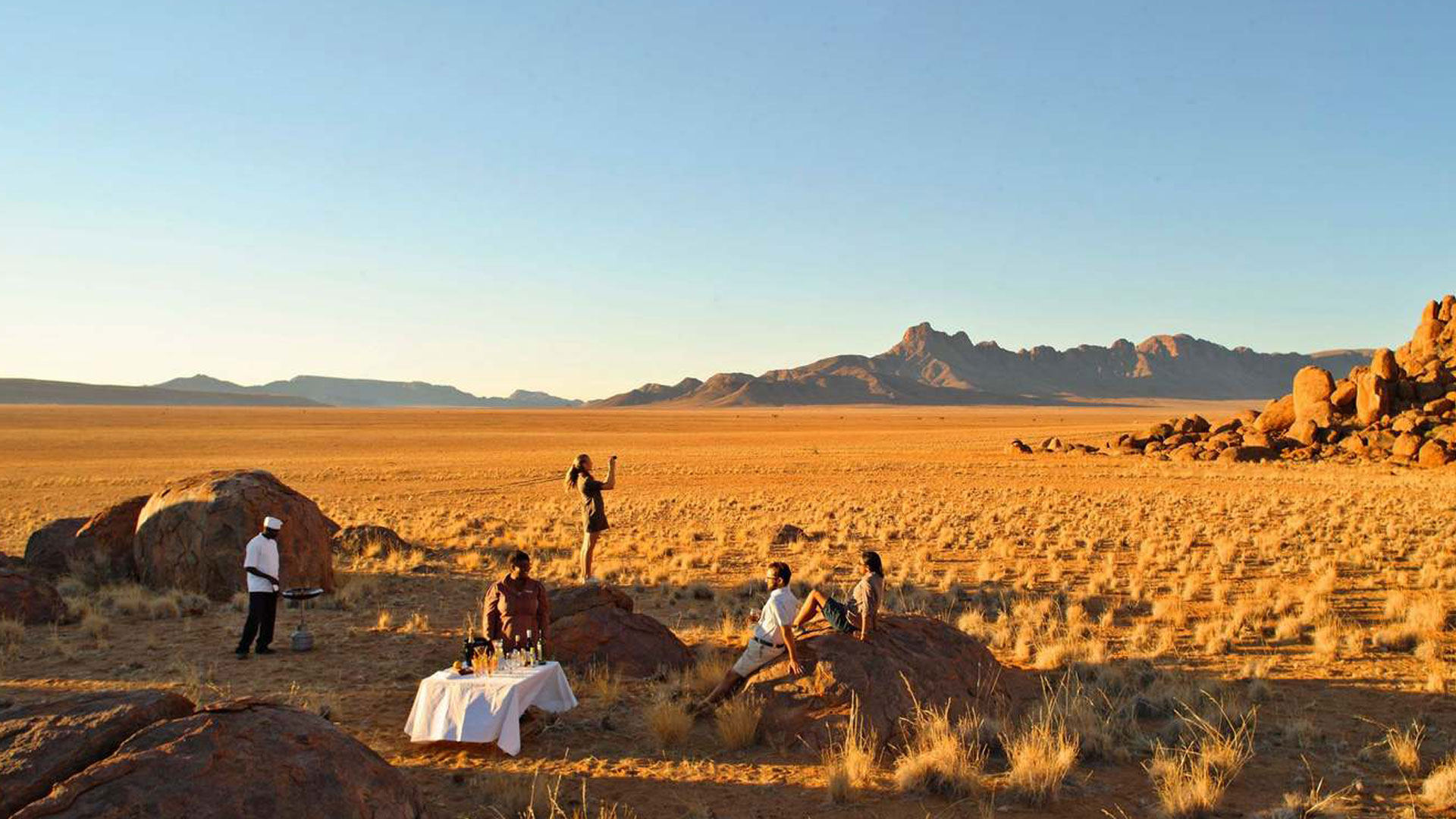 Self-drive safari in Namibia
Visit Etosha National Park and the seaside town of Swakopmund before stopping off in the Namib Desert
14 days, 13 nights | From NAD 49,418 | Windhoek, Okonjima, Etosha, Damaraland, Swakopmund, Namib Desert, Sossusvlei
Your journey at a glance
This extraordinary self-drive adventure takes you through the natural highlights of Namibia, from its rich wildlife areas to its charming coastal towns and the wonders of the Namib Desert. Begin your adventure with intimate encounters with big cats at Okonjima and move on to the stark beauty of the salt pans and the rich wildlife of famous Etosha National Park.
Venture into the rugged and rocky landscape of Damaraland, where fascinating desert species exist next to relics of ancient San Bushmen. Immerse yourself in the adventure activities and colonial charm of the seaside town of Swakopmund before heading off to explore an immense sea of sand in the depths of the Namib Desert at Sossusvlei.
1 night Windhoek | 2 nights Okonjima Reserve | 2 nights Etosha National Park | 1 night Ongava | 2 nights Damaraland | 2 nights Swakopmund | 3 nights Namib Desert
Plan your journey
This unforgettable journey showcases just a few of our favourite experience combinations in this iconic destination. It is merely an example from which you can use to start dreaming and creating your own adventure with one of our dedicated Travel Specialists.
A taste of what to expect…
Day 1: Windhoek
Upon your arrival at Hosea Kutako (Windhoek) International Airport you will be met by an &Beyond representative who will get you on the road with your rental car and provide you with a quick briefing of your itinerary
Kick-start your adventure with an approximate hours' drive to the exceptional Olive Exclusive Boutique Hotel, where you will spend one night
Day 2-4: Okonjima Nature Reserve
Okonjima Reserve is situated just west of the renowned Waterberg Plateau Park, amidst the vast plains scattered with the remnants of ancient sandstone outcrops that skirt the Omboroko Mountains. A Herero name meaning "place of the baboons" this spectacular area is home to the world-famous AFRICAT Foundation, which supports the conservation of the world's largest free-ranging population of cheetah and Namibia's large wildcat population.
Among the carnivores being researched and rehabilitated at AFRICAT are cheetah, leopard, lion, caracal, wild dog and hyena. Visitors to the area can embark on interpretive tours of the foundation as well as enjoying breathtaking nature drives.
Adventures include tracking cheetah and leopard on foot, bird watching and the opportunity to embark on the Bushmen Trail, during which guests can experience a day in the life of a San Bushman.
Night drives set off after dinner, providing a glimpse into the nocturnal life of the predators, as well as magnificent viewing of the star-studded skies.
Keen hikers can set off into the majestic solitude of the desert on a selection of nature trails, while bird watchers will be sure to spot and photograph a number of colourful species.
Day 4-6: Etosha National Park
Etosha is one of Africa's great wildlife parks and Namibia's prime wildlife conservation area. Spanning a vast 22 300 km², it consists mostly of grassy plains around a huge saltpan, which becomes a beautiful lake after heavy rains and attracts large flocks of pink candy-floss-coloured flamingos. Etosha hosts a vast array of animals, including rare and unusual species like the black-faced impala, Hartmann's Mountain zebra or the smallest antelope in the world, the Damara dik-dik. The wildlife in Etosha congregates around the watering holes, making for exciting and productive game viewing
Apart from its wildlife, Etosha is also known for its immense salt pans, which covers 4 731 km² at the heart of the park. Formed by a massive lake that gradually evaporated, this vast stretch of shimmering salt forms a picturesque contrast to the rich range of wildlife found in the park
Explore the immense open plains of Etosha on morning and afternoon game drives or delve deep into the private game reserves found on its eastern edge. Depending on where you choose to stay, you may also be able to track desert rhino on foot or to take part in rhino research initiatives
Day 6-7: Ongava Game Reserve
Drive through the breathtaking wilderness of Etosha to Ongava Game Reserve, situated on the outskirts of Etosha
Set off on game drives that explore the Okaukuejo area of Etosha, keeping an eye out for lion, elephant, gemsbok, springbok, red hartebeest and both white and black rhino
Enjoy the freedom of night drives and bush walks in Ongava, where you can track wildlife on foot in the company of experienced guides. Or choose to spend the afternoon at a tranquil hide overlooking a waterhole and wait to see what wildlife sightings the day will bring
Day 7-9: Damaraland
The breathtaking mountain region of Damaraland is situated on the eastern side of the Skeleton Coast National Park and southwest of Etosha National Park. An assortment of desert-adapted wildlife such as elephant, rhino, zebra and lion live in this near-barren landscape
A not-to-be-missed attraction is the picturesque Brandberg, Namibia's highest mountain, which is home to thousands of ancient rock paintings, most notably The White Lady. Nearby the rocky outcrops of Twyfelfontein feature exceptional Bushmen engravings, which are considered to be some of the best-preserved etchings on the continent. Visitors to Damaraland can view one of its more unusual habitats – the Petrified Forest, which dates back millions of years and offers a haunting landscape of gigantic fossilised trees, some up to 30 metres (100ft) in length
Day 9-11: Swakopmund
This charming little coastal retreat on Namibia's western coast retains a strong German flavour, from its cobbled streets and picturesque buildings down to its typical German restaurants and pubs
Choose from a breathtaking range of outdoor adventures, including a visit to nearby Walvis Bay
Set off on a boat cruise that promises up-close sightings of a number of wetland bird species, as well as dolphins, whales and the seals at Pelican Point
For an even closer encounter with the seals, visit the Cape Cross Seal Colony north of Swakopmund and marvel at the antics of one of southern Africa's largest numbers of seals. Or, if you choose, take to the waters off Swakopmund on a deep sea fishing adventure
Drive deep into the Namib on a quad bike, enjoying the pristine beauty of the soaring dunes or glide down their curved slopes on a sand boarding adventure
For a unique sense of perspective, admire the desert landscapes from above with tandem skydiving
In Swakopmund itself you can visit the vibrant township and meet the family of the area's late traditional chief or get to know about the local Herero culture and traditions
Day 11-13: Sossusvlei, Namib Desert
One of the highlights of any trip to Namibia is a visit to Sossusvlei in the heart of the enormous, almost 50 000km² Namib-Naukluft Park. Easily accessible to visitors, Sossusvlei is a clay pan, only rarely filled by water, but a place of awe-inspiring beauty. Visitors to the region will be left spellbound by the magnificent ochre-coloured sand dunes, which rise over 300m into the sky – the highest sand dunes in the world
Enjoy a range of desert adventures which include scenic drives with an opportunity to encounter a variety of desert-adapted animals such as gemsbok, zebra, springbok, bat-eared fox, aardwolf, caracal and jackal
Guided hikes visit ancient Bushman paints, while a variety of hiking trails are available and quad bike adventures in the dunes set the pulse racing
Photograph the fascinating petrified dunes and explore the massive boulders of Bushman's Koppies, haphazardly strewn one on top of the other
Explore the night sky under the guidance of a professional astronomer or try your hand at some photographing the stars
Hot air balloon rides, helicopter flips and scenic flights over the majestic desert landscapes, as well as horse riding adventure, are available nearby
Day 14: Departure
We wave a fond farewell as you embark on the last leg of your extraordinary adventure. A drive of five to six hours will take you back to Hosea Kutako (Windhoek) International Airport, where you will drop off your hired vehicle and board your plane for your onward flight
Tailormake your journey
Add these must-do experiences