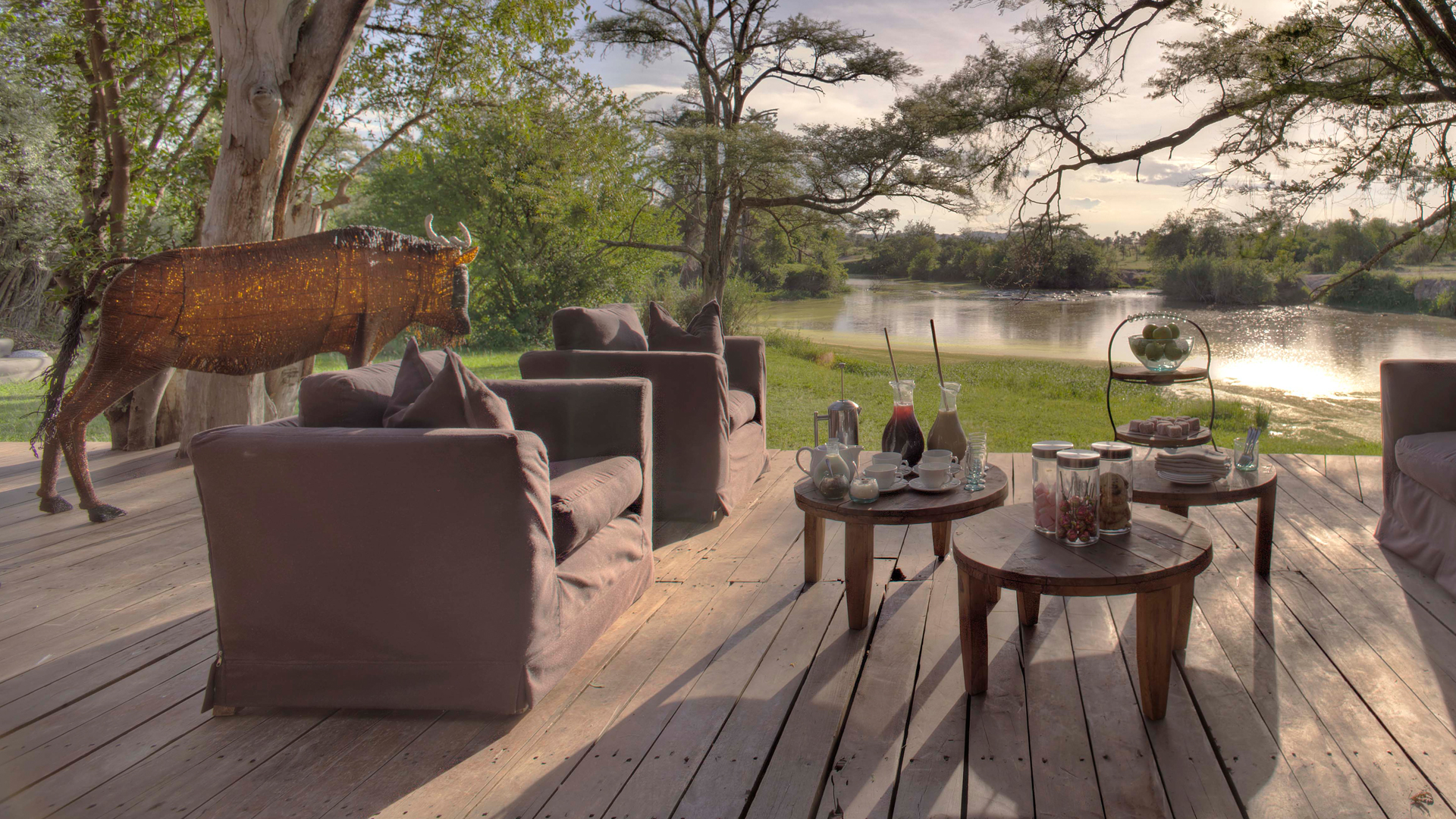 &Beyond Grumeti Serengeti Tented Camp
Lying right in the path of the Great Migration and its dramatic river crossings
The spirit of &Beyond Grumeti Serengeti Tented Camp
Located in the remote Western Corridor of the Serengeti, Grumeti provides a private Serengeti experience with exclusive game viewing in some of the most secluded parts of Africa's most famous game reserve. Its rustic yet sophisticated safari tents are tucked into the shade of an evergreen forest on the banks of a tributary of the famous Grumeti River. Black and white colobus monkeys chatter in the foliage and chase each other over the thatched roofs of the tented suites. A resident pod of hippo grunts and grumbles from beneath a layer of luscious green water weeds in the tranquil pool in front of the camp.
Game drives from the camp can expect to encounter large lion prides and clans of hyena up to a hundred strong, as well as the great herds of Tanzania's annual Great Migration. Each year, the masses of wildebeest and zebra cross the waters of the Grumeti River, home to some of Africa's largest crocodile, in search of fresh grazing grounds.
Why we love it
Overlooking a cool and pleasant hippo pool; frequent hippo visitors in camp
Seasonal sightings of the Great Wildebeest Migration, including river crossings
Exceptional year-round wildlife
Huge prides of lion, leopard, cheetah, big hyena population, buffalo and elephant herds
Witness the topi migration
Only area in Tanzania to see black and white colobus monkeys
The camp
The camp is situated on a by-water of the Grumeti River, known for its dramatic wildebeest crossings and enormous Nile crocodiles. Tucked into a strip of riverine forest, guests thrill to the antics of the resident hippo in the tranquil pool in front of the camp and the spectacular pied colobus monkeys, found nowhere else in the Serengeti.
Meals can be enjoyed on an extensive deck with beautiful views towards the river, while the dining area opens up to a traditional African boma, where dinner is served beneath a billion stars. Traditional fires known as jikos and outdoor ovens produce mouth-watering aromas, while the sounds of the African night provide a gentle backdrop to tales of the day's safaris.
Intimate guest areas include open-fronted sitting and dining areas, as well as a domed bar, all adorned with beaded artefacts. The spacious decks are perfect for enjoying sundowners overlooking the river and the camp's rim-flow swimming pool provides a view of the hippo-filled river below.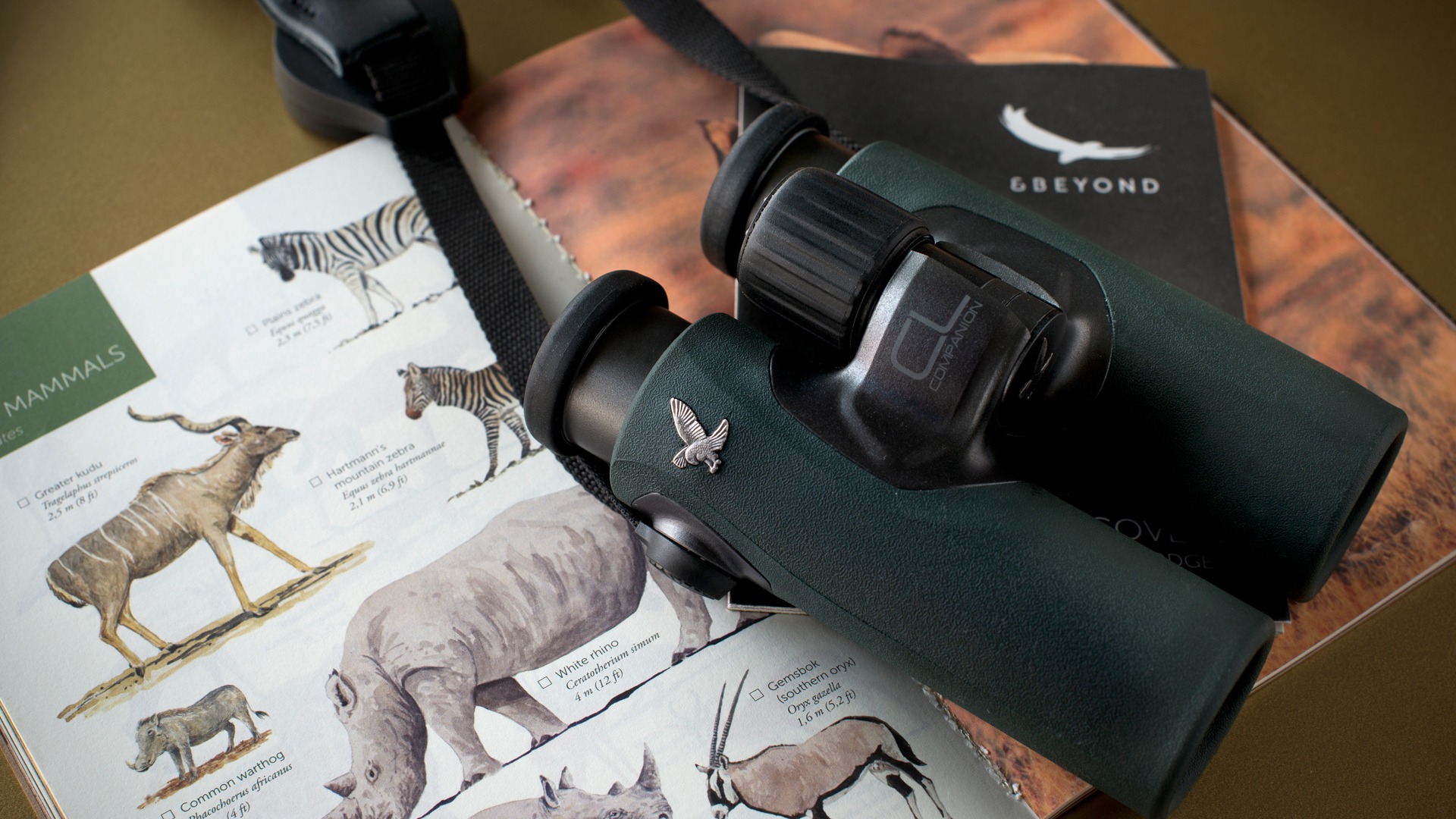 What lies beyond the expected?
A pair of Swarovski Optik bincoculars for your exclusive use during your stay with us (one pair per guest room/suite)
Plan your stay
Talk to a Travel Specialist and tailormake your stay
Care of the Land, Wildlife & People
&Beyond's impact in conservation & community
Stories to inspire
Our selection of stories from the Bateleur Magazine