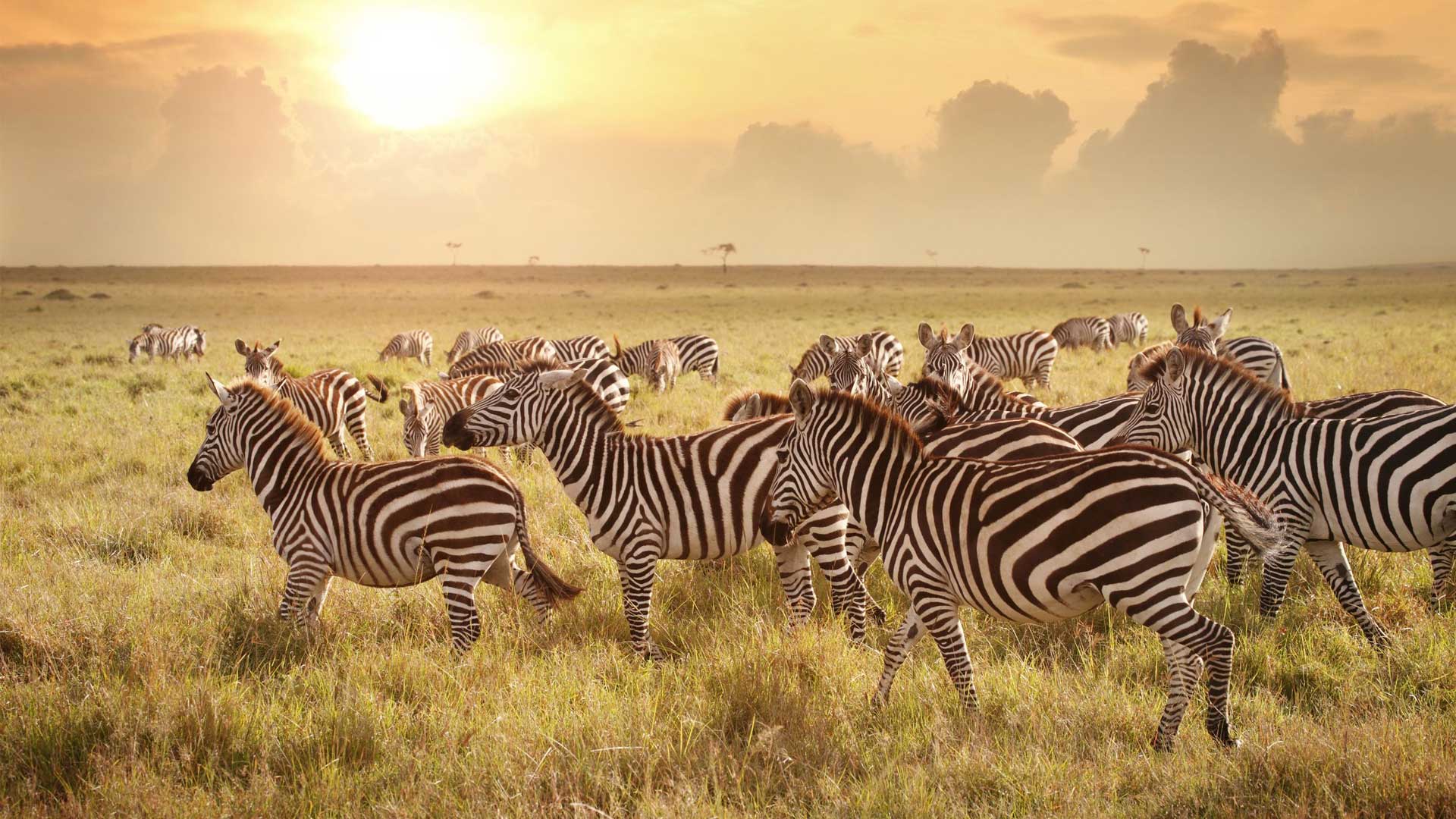 What lies beyond the migration in the Western Serengeti
Combine the Western Serengeti with other regional highlights
Find a place of rare offerings – your own private Serengeti…
From August to March, this region is a perfect example of less is more – less people, less vehicles – more time, more space, more unforgettable wildlife moments.
The Serengeti National Park is a tapestry of landscapes, dominated by vast plains. This diversity is echoed in the western corner, where the verdant beauty of the Grumeti riverine valley and forested shores is offset against the open-space grandeur of the grassy plains with their backdrop of rolling hills. The legendary sunrises and sunsets of this region make it a photographer's paradise.
Go West: Why Visit August – March?
All year round, huge prides of lion, a wealth of big-cat predators, hyena clans, buffalo, elephants and herds of the game can be seen in this western part of the Serengeti, together with signature species like the entrancing black and white colobus monkeys, and exceptional birdlife. The permanent waters of the Grumeti and seasonal Mbalageti rivers draw a profusion of the game to their shores. Resident hippo pods can be seen in the river pools, and crocodiles lie, log-like, in the shallows.
This is a place of wildlife magic, every day, every month, every year. A magic that flames with the throngs of the Great Migration, before settling back into its perennial wildlife glow. It offers a year-round, exclusive invitation to a game-viewing wonderland.  It is also a perfect complement to other viewing highlights within the Serengeti, Tanzania, and neighbouring countries.
&Beyond Grumeti Serengeti Tented Camp with &Beyond Klein's Camp
Luxurious family accommodation, and fun-filled WILDChild programmes make this an ideal pairing for a family safari. The win-win experience of time within the Serengeti National Park, and the exclusive flexibility of a private concession. Wildlife viewing simply does not get better than this twinning of riverine landscapes to the vast wilderness of the Serengeti plains.
Year-round signature highlights include:
The black and white Colobus monkeys of the Grumeti River area
Extraordinary predator viewing
Walking safaris, night game drives and great bush functions on the Klein's private concession
The contrasting cultural experiences of Lake Victoria and a traditional Maasai homestead
&Beyond Grumeti Serengeti Tented Camp with &Beyond Serengeti Under Canvas
This pairing presents a set of wonderful contrasts:-
From the western to the southern Serengeti: December – March
During this period, the western Serengeti offers grassy rolling hills, plenty of lion, and few vehicles, while Serengeti Under Canvas brings to the table the dry open plains of southern Serengeti, where the wildebeest are calving.
From the western to the northern Serengeti: August – October
From the breathtaking intensity of the Great Wildebeest Migration Kogatende River crossing season, to the focused exclusivity of the game-rich Northern Serengeti.  ,
Year-round signature highlights include:
Perfect positioning for optimal migration wildlife viewing
Unparalleled exclusive game sightings
Western Serengeti with the Masai Mara
The combined offerings of Africa's iconic reserves, Tanzania's Serengeti National Park and Kenya's Masai Mara National Park, encompass a remarkable collection of wildlife and cultural experiences. The luxury tented camps of &Beyond Grumeti Serengeti, &Beyond Kichwa Tembo, and &Beyond Bateleur Camp mirror each other in their timeless elegance.
Year-round signature highlights include:
Exclusive game viewing experiences
Daily hot air ballooning over the Masai Mara
Western Serengeti with Mahale Mountains National Park
This unique and extraordinary combination pairs dramatic Serengeti Big 5 wildlife experiences with the high adventure of chimpanzee trekking through the dense forests of the Mahale reserve. The tranquil waters of Lake Tanganyika provide an ideal counterpoint to your day's hiking activity.  Dedicated specialist guides complement this ultimate pairing of two wildlife gems. Their remote location guarantees the benefit of high exclusivity.
July – October signature highlights include:
Unparalleled game viewing and wilderness experiences
Privileged sightings of the Mahale primates
The timeless beauty of Lake Tangyika
Plan your journey
We have showcased just a few of our favourite combinations in this iconic destination. It is merely an example from which you can use to start dreaming and creating your own adventure with one of our dedicated Travel Specialists.