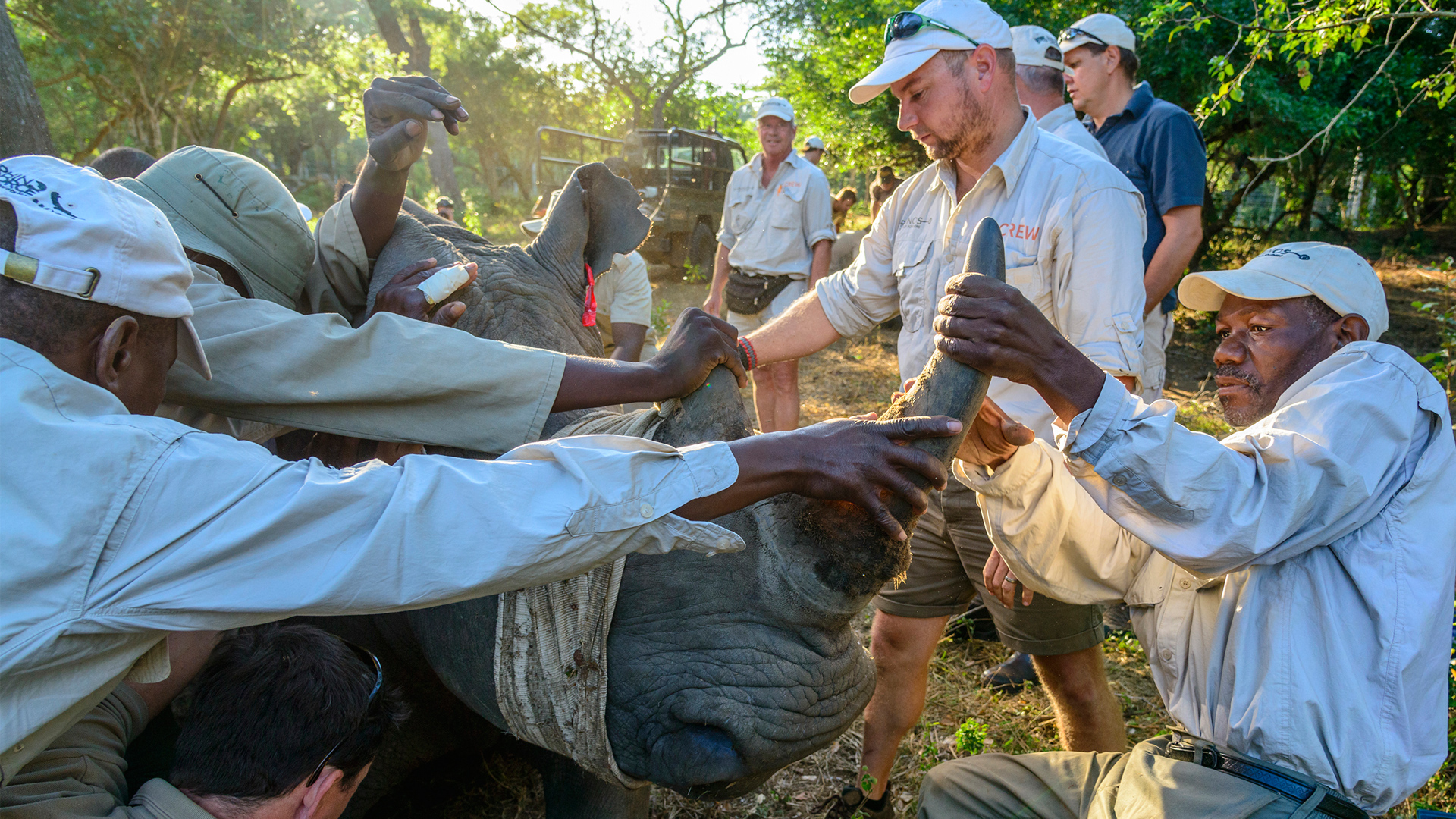 Rhinos Without Borders
A collaboration with Great Plains Foundation, dedicated to the survival of rhino through the translocation of 100 animals to Botswana strongholds.
Since 2008, more than 7000 rhinos have been poached in South Africa poached in South Africa, severely affecting the African icon's numbers.  With a rhino killed at an average rate of one every eight hours, there are more rhinos being poached than born every year. &Beyond believes that translocations are fundamental to secure the survival of this endangered species. This initiative was designed to help counter the scourge of poaching and preserve this rare African icon for future generations.
A brief history
The project was born out of the first ever private game reserve donation of rhino to another country, during which &Beyond translocated six white rhino from &Beyond Phinda Private Game Reserve  in South Africa to Botswana's Okavango Delta . Facilitated in partnership with RHINO FORCE, this conservation coup was generously funded by lead sponsor Motorite Administrators. After years of negotiation and planning, the initial translocation of the Rhinos Without Borders project begun in early 2013 with the full support of the Botswana Rhino Management Committee.
Botswana was carefully selected for its extremely low poaching rates, thanks in part to its "no tolerance" policy when encountering potential threats. Each rhino, when translocated, is fitted with specially designed telemetry devices for ongoing research and monitoring purposes.
As part of the process of transferring skills and preparing for the arrival of the rhino, &Beyond provided intensive tracking and monitoring training for game scouts from Botswana, held at &Beyond Phinda Private Game Reserve. The game scouts were familiarised with the use of the satellite collars and tracking equipment intended to monitor the movement and behaviour of the six rhino after their release. A portion of this equipment, as well as anti-poaching uniforms and binoculars, was supplied by the Chipembere Rhino Foundation.
Following the success of this project with all six of the translocated rhino thriving in their new habitat, &Beyond then partnered with Great Plains Conservation in 2014 to move an additional 100 rhino from South Africa to the relative safe haven of Botswana.
For more information or to donate to the cause, please visit rhinoswithoutborders.com