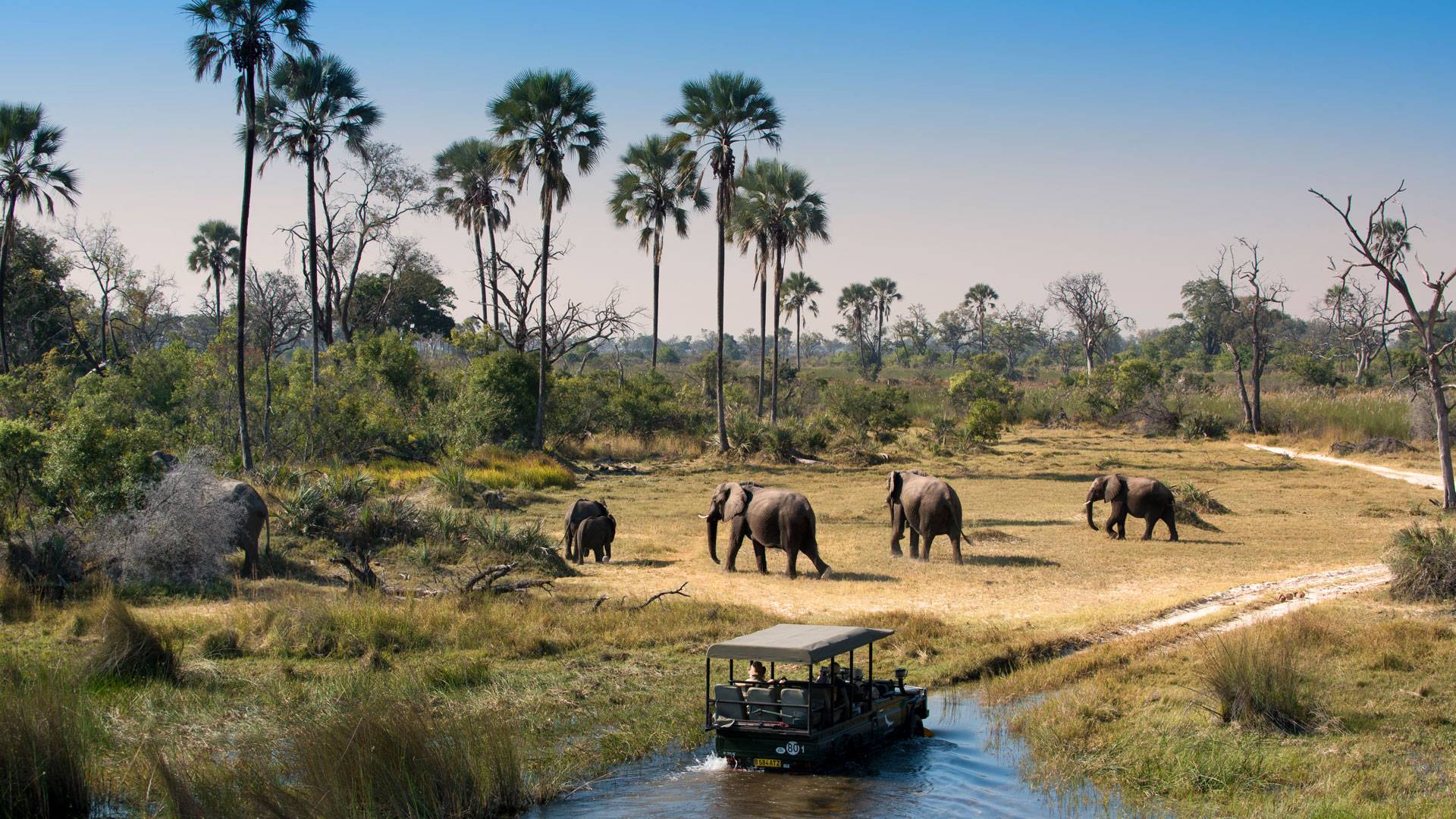 Wild Waters of Southern Africa
Experience a taste of the best Zimbabwe and Botswana has to offer with a free night on us in Victoria Falls
8 Days, 7 Nights | From USD 4,384 | Victoria Falls, Chobe National Park, Okavango Delta
Your journey at a glance
Experience a taste of the best Zimbabwe and Botswana has to offer, on this grand 8-day itinerary.
Explore the thundering majesty of the famed Victoria Falls in Zimbabwe, ending with the most remote and untouched wildlife areas in Botswana. Your adventure begins with the sight of the magnificent flume of water vapour that hangs above the mighty Victoria Falls.
The next stop is the famed Chobe National Park where elephant wander dreamily into camp, and hippo slumber as you float down the river on a sunset cruise.
Your journey culminates in the Okavango Delta, a magical setting where land blurs with water. Be captivated by a maze of sparkling lagoons, meandering channels and overgrown islands teeming with wildlife. A sensational experience!
2 nights Victoria Falls | 2 nights Chobe National Park | 3 nights Okavango Delta
Plan your journey
This unforgettable journey showcases just a few of our favourite experience combinations in this iconic destination. It is merely an example from which you can use to start dreaming and creating your own adventure with one of our dedicated Travel Specialists.
A taste of what to expect…
Day 1 - 3: Victoria Falls
One of the world's greatest natural spectacles, Victoria Falls is a massive curtain of water that tumbles over steep cliffs into the sheer drop of Batoka Falls. Shrouded in legend, romance and myth, long before the Scottish missionary and explorer, Dr David Livingstone 'discovered' the Falls in 1855, the local Batonga people had named them Mosi-oa-Tunya, 'the smoke that thunders'.
Choose from a multitude of activities to add on to your stay. Enjoy a tour of the falls, birdwatching and a sunset river cruise. Enquire about safari game drives in the area.
Daredevils will not lack for options, with whitewater rafting, bungee jumping, river boarding, jet boating, abseiling and a host of other activities available in the gorges below Victoria Falls. If you are in search of some gentler adventure, you can try canoeing the calmer waters above the Falls or take to the skies for a spectacular microlight or helicopter flight above the chasm. These activities are at an additional cost.
Day 3 - 5: Chobe National Park
Located in the north of Botswana, with the Chobe River forming the country's northern border, Chobe National Park is flanked in the south-west by the Okavango Delta and the Moremi Game Reserve. Towards the south of the Chobe River lie flat floodplains that form a broad sweep of open grassland and woodland. A myriad pans and waterholes dot the plains
Sway with the motion of your 4×4 game drive vehicle, keeping an eager eye out for what the next bend in the road may reveal
Thrill in a photographic boat safari on the Chobe River. Pause in reverent stillness as the riverbank slowly fills up with elephant and then share their delight as the whole herd piles in for a swim.
The Chobe River and its floodplains provide an irresistible attraction for wildlife, which congregates there during the dry season. Vast herds of elephant abound, with herds between 500 and 5 000 strong sometimes seen on the floodplains. Lion, spotted hyena, red lechwe, puku, zebra, sable and roan can also be seen
Day 5 - 8: Okavango Delta
The Okavango Delta is the world's largest inland delta and is often referred to as a miracle of nature. A maze of sparkling lagoons, meandering channels and overgrown islands teeming with wildlife, Botswana's Okavango Delta lies like a sparkling jewel at the heart of the Kalahari Desert. Known as the river that never finds the sea, the Delta's crystal-clear channels spread over the thirstlands of the Kalahari with their papyrus-fringed banks and fertile floating islands
Adapted for a life in and out of water, the elegant red lechwe and shy sitatunga are found in this watery wilderness. Lion, cheetah, leopard and African wild dog share the floodplains with large herds of elephant and buffalo. Hippo inhabit the deeper channels and lagoons, while honey badgers can be seen in broad daylight. Tall termite mounds are homes for families of dwarf and banded mongoose
Day 8: Departure
After breakfast enjoy a leisurely game drive to the airstrip where a light aircraft will be waiting to fly you, and fellow guests, to Maun International Airport. Savour the views of the sparkling lagoons and palm tree islands as you fly over this water wonderland for one last time
We wave a fond farewell to you as you proceed with your onwards journey
Tailormake your journey
Add these must-do experiences