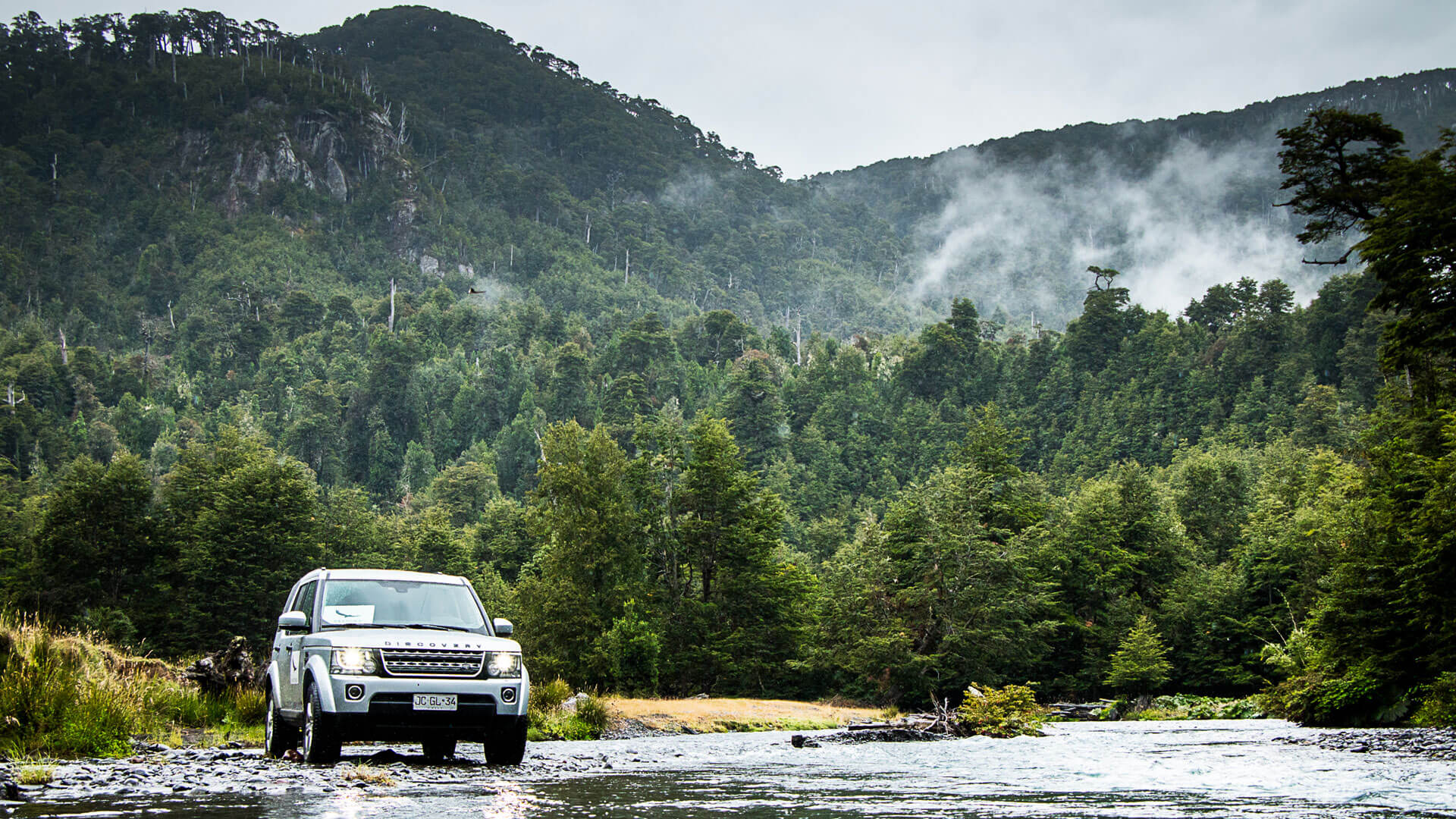 Southern Chile Islands & Lakes Expedition
Hit the open road on an adventure | From USD 11,065 | Chile
Your journey at a glance
Immerse yourself in this 11-day set-departure itinerary that explores a land of myths and legends, unique folklore and culinary traditions. Your journey kicks off in Santiago, Chile's dynamic capital, with an exploration of the city's barrios. This off-the-beaten-path tour will provide a uniquely entertaining insight into the origins of the city and its expansion over the course of the last 200 years.
Your journey then takes you to Chiloé, a magical world abundant with lush nature and a singular culture. Explore this intriguing island with its colourful wooden churches, 16 of which have been declared UNESCO World Heritage Sites.
The next leg of your adventure takes you to the Chilean Lake District. This region technically begins once you have crossed the Bío-Bío River, some 500 km (310 mi) south of the Chilean capital. In the 19th century, German settlers arrived in the area, and their stamp is particularly visible in and around the southern city of Puerto Varas. This region boasts a magnificent natural environment, embodying mountains, lakes, forests and national parks that make this Chilean destination a major drawcard.
Your journey culminates at &Beyond Vira Vira, situated just outside Pucón. Coined the "Adventure Capital" of Chile, this area offers a plethora of outdoor activities such as rafting, trekking, skiing, kayaking, fly-fishing, mountain biking, and horseback riding. Adventure activities aside, Vira Vira also offers the opportunity to embark on captivating cultural excursions, gaining insight into the Mapuche people, and relishing delicious varieties of cheese at the lodge's cheese factory. You can also unwind with soothing wellness treatments, yoga sessions or an indulgent dip in a bubbling hot tub under the night sky.
2 nights Santiago | 3 nights Chiloé Island | 2 nights Puerto Varas | 3 nights Pucón
What we love about this journey:
Small groups of just 4 to 10 guests, which means plenty of flexibility and privacy
Guided throughout by Gary James, a sought-after Chile specialist and an English speaking guide
2 guests per vehicle (families of 3 to 4 can be accommodated in the same vehicle at a special rate)
Luxury 4×4 Land Rover Discovery 4 and/or Discovery Sports vehicles with 2 guests plus guide
Set departure dates coincide with autumn and spring (snow-capped mountains, lush, colourful flora and vibrant culture)
Tuck into local gourmet meals and delicious home-cooked fare
Limited departures | 11 Days
USD 11,065 per person
Please keep in mind that this journey's dates may be flexible to suite the preference of your group. Speak to one of our Travel Specialists to find out more.
Two exclusive set departures:
01 – 11 April 2019
01 – 11 October 2019
What's included

All nights of accommodation mentioned in the program
Transportation in the best available vehicles as mentioned in the itinerary
Tours as mentioned in the program with English speaking local guides
Meals as indicated in the program
Domestic Air Tickets and local airport tax
Taxes included, where applicable
International Airfare / Airport taxes
What's not included

Early check-in or late check-out charges
Items of personal nature like laundry, phone calls, etc
Any video/still camera fee during the trip
Gratuities
Drinks (except for local brand drinks at andBeyond Vira Vira, which are included)
Excess baggage
Insurance
Visa or reciprocity fee expenses
Conditions

The rate is valid for the below dates mentioned only;
01 – 11 April 2019
01 – 11 October 2019
The rate is based on a minimum of 8 guests travelling. Should the number of guests be less than 8, we would need to re-quote
The quote is per person and based on sharing the same room
Single room will attract a single room supplement
Airfare for internal flights is based on present schedule fare in economy class and is subject to increase
This offer only applies to the hotels specifically mentioned in the itinerary

&Beyond trading terms apply
What to expect…
Day 1: Santiago
Upon your arrival you will be warmly welcomed and assisted at immigration and customs to reduce the time spent on airport formalities and waiting in queues. You will be met by your private chauffeur outside and driven to your hotel in the cosy Lastarria neighbourhood
In the evening, you will have a meeting with your guide in a local restaurant to discuss your itinerary and receive a briefing on your upcoming activities and adventures
Day 2: Santiago
Today, you will enjoy a half-day city tour in the Chilean capital Santiago. The purpose of this fascinating excursion is to illustrate the growth of Chile's capital city from a small hamlet to a megapolis of over seven million inhabitants
The tour will be conducted in chronological order, revealing the origins of the city, the urban spread since the 19th century, and the exciting way forward. Highlights include icons of the city's downtown areas including Cerro Santa Lucía, the hill upon which the city was founded in 1541, the Plaza de Armas, and the bustling downtown markets. While in the centre, ride the city's Metro system, grab a coffee, people-watch, and sip a delicious beverage in a legendary hole-in-the-wall bar
The second half of the tour traces the population shift from the centre, to the residential areas of Providencia and Ñuñoa, the cosmopolitan financial districts of Las Condes and Vitacura, and finally La Dehesa, where the city reaches the foothills of the Andes. Showcasing the new, the old, and the future, this is a superb and memorable introduction to this fascinating city.
Day 3- 6: Chiloé Island
After your delicious breakfast, you will be privately driven to Santiago Airport for your domestic flight to the city of Castro on Chiloé Island. Upon your arrival, you will be welcomed by a local representative and driven directly to your hotel. Spend the afternoon at your leisure in this beautiful environment
Enjoy two full days of exciting activities provided by Tierra Chiloé. The hotel offers a wide range of included activities and excursions, and we recommend you discuss your interests and preferences with the guides of the hotel. They will be able to assist you in choosing the perfect adventure for you. Our recommendations include the: Half-day Historic Castro tour and the full-day Land of Murta walk
Day 6-8: Puerto Varas
After your breakfast, enjoy an overland journey in a Land Rover to your hotel in Puerto Varas. Be captivated by the spectacular landscape on off-road routes, as you are driven north in order to cross the water by ferry to reach the Lake District. Lunch is either en route, or in a local restaurant
The following day, enjoy a scenic drive around Llanquihue Lake and volcano Osorno, taking in the dramatic landscape
Tucked between scenic Lago Llanquihue and the snow-capped Osorno and Calbuco Volcanoes, we find the enchanting village of Puerto Varas. It blends a rich German heritage with the stunning natural beauty of southern Chile's Patagonia region. The quaint town centre features delightful wood-shingled homes, a public plaza teeming with rose gardens and unparalleled access to world-class adventures such as kayaking, canyoneering, rock climbing, fishing, hiking and skiing
Day 8 - 11: Pucón
After breakfast, experience gorgeous and diverse views during your full-morning drive to &Beyond Vira Vira, located just outside Pucón. Upon arrival you will be warmly welcomed by the &Beyond team at the lodge. After your check-in, enjoy a delicious lunch, and plan your excursions and activities for the days ahead with your knowledgeable guide
Be spoilt for choice with myriad adventures hosted by knowledgeable and engaging guides at &Beyond Vira Vira, including horseback riding, trekking, fly fishing, whitewater rafting, kayaking, skiing, and scenic helicopter flights. The list is seemingly endless with fly fishing, mountain biking, and a variety of water sports. All excursions are specifically tailored according to your interests and fitness levels
Dine on sublime cuisine with the 'farm-to-table' concept of producing everything required for the award-winning restaurant at &Beyond Vira Vira
Gain insight into the fascinating local Mapuche people
Gaze up at the magnificent blanket of stars whilst relaxing in one of the two lodge hot tubs, enjoy wellness retreats, therapies and massages in the spa, and balance your chakras with daily yoga classes
Curl up with a good book in the library, and for a spot of retail therapy, peruse beautiful items in the &Beyond Shop
Day 11: Departure
Your adventure with us comes to an end. After breakfast, you will be driven to Temuco Airport in order to check-in for your scheduled flight to Santiago, where you will connect to your outbound international flight