Spring has officially sprung in the southern hemisphere and this long-awaited change in season has us reflecting on just how much our perspectives, scenery and moods change as each new season begins. But you know what they say, change is as good as a holiday, and no one embraces this more than long-time &Beyonder Mussa Mathayo, whose career path has been dominated by seasonal change and the continuous thundering hooves of the Great Migration.
Mussa has been with &Beyond for an impressive 20 years. All those years ago, jobless yet full of hope and strength of character, Mussa responded to a recruitment advert with &Beyond in East Africa. Thanks to this advert and a succession of managers and mentors that encouraged him along the way, Mussa worked his way up the &Beyond ladder eventually clinching his current and well-merited role of General Manager for our two &Beyond Serengeti Under Canvas camps in Tanzania. These luxury semi-permanent camps actually move around the Serengeti plains year-round, forever following the seasonal and unpredictable path of the Great Migration. So, as you can imagine, Mussa is always open to change and new scenery.
Mussa started out as a storeman at &Beyond Grumeti Serengeti Tented Camp, an exclusive camp that lies directly in the path of the Great Migration and its dramatic Grumeti River crossings. Knowing nothing about wildlife at the time, Mussa wasn't actually sure if he would fall in love with nature. But just a few weeks into his new career, Mussa was already hooked and so began his eternal passion for wildlife and the natural world.
In his own personal time, Mussa took the initiative to learn all he could about the animal kingdom that now surrounded him. He bought himself a bird book and started paying close attention to the prolific birdlife around the camp. He studied fervently and asked the Rangers lots of questions so that he could learn as much as he possibly could.
Mussa soon decided it was his dream to become an &Beyond guide; however, his first hurdle was that he had never actually been taught how to drive a car, which is obviously crucial to a guiding career. Again, determined not to give up, Mussa took it upon himself to learn and he successfully acquired his driver's license soon thereafter. He then tried, not once, but four (!) times, to enrol in the &Beyond Mwewe Ranger Training School at &Beyond Klein's Camp. Sadly, fate wasn't on his side and he wasn't accepted onto the course. Yet he never saw this as a failure and it certainly didn't break his positive outlook or unshakable spirit.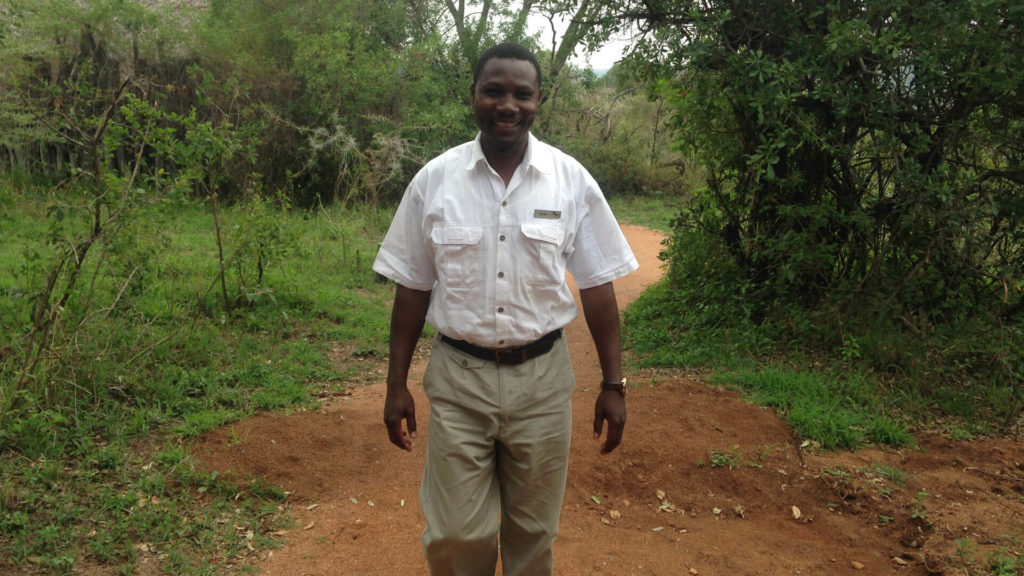 It's funny how life works itself out. When Mussa was eventually offered that coveted spot on the ranger training course, he actually declined. At this stage, he had moved on and set his sights elsewhere. During his time as a storeman, Mussa had gained financial, technical and management skills, so it was no surprise that this willingness to learn went on to secure him many different roles at &Beyond Grumeti, from receptionist and security guard to butler and camp maintenance
Mussa also enrolled himself in long-distance studies, eventually earning not only a diploma in Hotel Operations and Management but also a well-deserved promotion to Assistant Camp Manager. Five years later, he was transferred to &Beyond Serengeti Under Canvas where he was responsible, as Camp Manager, for implementing the systems (such as the local operational day sheet and vehicle movements) and structures prior to the camp's official launch. He remained Camp Manager for seven years (six years at Camp 2 and one year Camp 1), and after a three-year stint as General Manager back at his original home, &Beyond Grumeti, Mussa returned to Serengeti Under Canvas as GM, and has been there ever since, ensuring guest delight, staff satisfaction and smooth, seamless operations.
Of course, there are many challenges, but that's what makes Mussa thrive. As a semi-permanent camp that continually follows the uncertain route of the Great Migration, there is a fixed move schedule every few months. And come rain or shine, not to mention wind, illness or fatigue, the camps must stick to this schedule and when it's time to move with the nomadic herds, it's time to move! It is physically and emotionally demanding work, but Mussa his team handle it with ease, working together patiently and professionally to ensure both camps move swiftly and efficiently to each new location. Mussa remains proud of his team and admires just how hard they work and how they continually strive to deliver extraordinary guest delight, comfort and safety at all times.
Armed with a curiosity about wildlife, a strong determination to succeed and an undeniably charming personality, Mussa was destined for success and his journey serves as motivation for others. When I asked Mussa if he had any advice for someone starting out, he said the most important advice he could give is just to be honest, work hard and things will eventually go your way. Many people gave Mussa valuable advice and training along the way; he learned to ask for help if he didn't understand something and he learned not only to embrace but to love, change.
Mussa, Asante Sana (thank you) for your 20 years of hard work, passion for guest delight and, of course, your contagious smile. It has been an honour to watch you grow and develop into the successful GM you are today.